NEW INNATE IMMUNITY MECHANISMS
Inflammation Types
Feature

Acute physiological

Acute pathological

Chronic pathological

Onset

Fast (minutes, hours)

Fast (hours)

Slowly (days)

Duration

Minutes, hours

Hours, days

Weeks, months, years

Participation of cells

Mainly neutrophils and macrophages

Mainly neutrophils and macrophages

Lymphocytes, monocytes, macrophages, eosinophils, mast cells, neutrophils

Exudation

No

Yes

No

Thrombosis

No

Yes

Maybe

Tissue injury

Uncommon and self-limited

May be severe and progressive

May be severe and progressive

Connective tissue hyperplasia

No

No

Yes

Angiogenesis

No

No

Yes

Local and systemic signs

Often subtle

Prominent

Prominent, less prominent or subtle

Requires treatment

No

Yes

Yes

Life-thrteatening

No

Maybe

Maybe

Prerequisites

Physiological activation of inflamasomes

Pathological activation of inflammasomes (overactivation, activation deficiencies)
Inflammasome is a unit of innate immunity and inflammation that can be formed rapidly in response to infectious invaders and/or tissue injury. The inflammasome is a multiprotein complex expressed in myeloid cells, which activates caspase-1, processes pro-inflammatory cytokines IL-1β and IL-18, and induces cell pyroptosis, a process of programmed cell death different from apoptosis. The exact composition of an inflammasome depends on the activator, which initiates inflammasome assembly. Such activators are Microbe-Associated Molecular Patterns (PAMPs) and Damage-Associated Molecular Patterns (DAMPs) that act through a variety of Pattern Recognition Receptors (PRRs). Among the PRRs, TLRs can detect PAMPs/DAMPs/allergens in the extracellular environment and endosome, whereas NLRs and some other PRRs play a crucial role in sensing patterns in the intracellular compartments.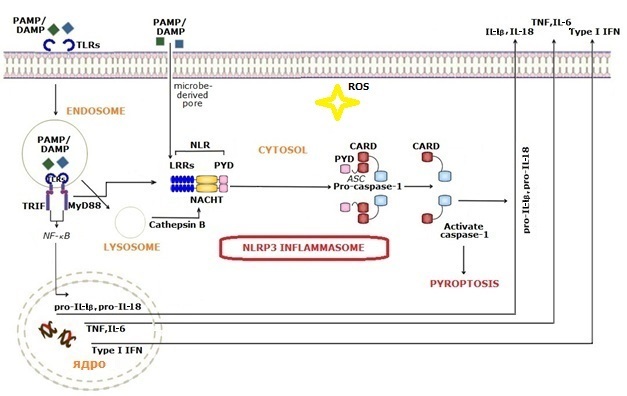 The NLRP3 inflammasome is the best-studied inflammasome and seems to be activated by many microbes. Structurally, NLRs contain LRR domains, a NACHT domain, and an effector domain, which can be either a pyrin domain (PYD), or caspase recruitment domain (CARD), or another type. The effector pathways associated with the inflammasome act at different levels.
PAMPs/DAMPs are recognized by TLRs expressed on neutrophils and macrophages and then phagocyted. In phagosome (endosome), PAMPs/DAMPs associated to TLRs trigger TLR signaling pathways, which recruit some adaptor proteins such as MyD88 and TRIF. The received signal activates the transcription factor NF-κB to promote the gene expression of cytokines including TNF, IL-6, pro-IL-1β, and pro-IL-18. Other transcription factors induce the gene expression of type I IFN-α and IFN-β. After the formation of phagolysosomes, lysosomal components including cathepsin B are released and activate the NLRP3 inflammasome with the participation of adaptor protein ASC. In addition, PAMPs/DAMPs may enter the cell through microbe-derived pores and directly activate the NLRP3 inflammasome. Also, PAMPs/DAMPs induce the production of reactive oxygen species (ROS), which may trigger NLRP3 inflammasome activation.


Upon activation of the inflammasome, caspase-1 processes pro-IL-1β,

and pro-IL-18. into their active forms. The subsequent process, pyroptosis, also requires the involvement of caspase-1. The term "pyroptosis" comes from the Greek word "pyro" meaning "fire." As opposed to apoptosis, cell death during pyroptosis is caused by plasma-membrane rupture and the release of DAMP such as ATP, DNA and ASC oligomers, and pro-inflammatory cytokines into the extracellular space that recruits more cells for the inflammatory cascade in the tissue. The inflammatory cascade may either prevent or resolve infection, or even eliminate the infectious agents.


Mutation in NLRP3 gene (1q44), which encodes the protein cryopyrin, leads to Multisystem Inflammatory Disease, a form of the congenital autoinflammatory disorder. Also, an excess of pro-inflammatory cytokines may lead to "cytokine storm".
©V.V.Klimov